Description
Excalibur 320C Series Product Description
The Excalibur 320C is the evolution of our Excalibur King LED fixtures. The 320C is a 2×4 fixture that can either be used by itself for vegetative purposes or in arrayed patterns for large flowering rooms. Perfect for 2×4 grow tents! The Excalibur 320C showcases the most cutting-edge LED technology from Samsung. Passively cooled with a robust heatsinks for an incredibly long lifetime. We offer these fixtures with a range of spectrum options focusing on price and efficiency (contact us for custom options!). Pared with the best Samsung LED technology, Inventronics drivers are our sole choice for LED drivers. High efficiency and incredibly low failure rates ensure constant uptime with zero maintenance costs.
Innovative Reflector Technology
We are proud to offer TRUE reflectors on our Excalibur X and C series fixtures. These reflectors offer 10 to 15% increase in PPFD efficiency due to their revolutionary performance and innovative design. Our PPFD readings speak for themselves! This is the highest performing 320w fixture on the market!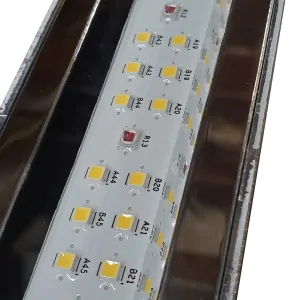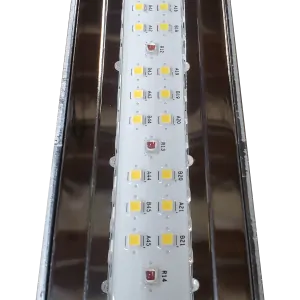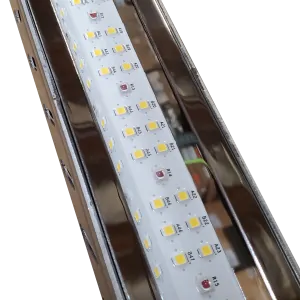 Fixture Controller Compatible 

Compatible with our GIL100 Touch Screen!
Excalibur 320C Spectrum 
Grow-it-LED offers several spectrum options for the Excalibur X series. Our standard offering is detailed below.
Alpha Spectrum
Diode Counts:
(576) 301H EVO 4000K
(96) 351H v3 660nm Red
Total: 672Diodes

Electrical Specifications
| | |
| --- | --- |
| Power Draw | 320 Watts |
| HPS/MH Replacement Wattage | 600w HPS |
| Spectrum | 4000K 301H EVO, 660nm 351H diodes |
| PAR efficacy | PAR eff. is based on each spectrum, varying from 2.3 to 2.94+ Umol/J |
| PPF | 907 ePAR 883PPF |
| Coverage Area | 4′ x 3′ flower and 4′ x 3′ veg |
| Lifetime | 75,000+ Hours (11.4 years of continuous use) |
| Driver | Inventronics EUD series driver |
| Cables | 6-foot industrial-grade SEEO Cord (Standard) |
| Plug | 5-15P Standard Other NEMA Plugs are available |
| Dimming | 0-10v Dimming capable, compatible with all RJ12 Dimming systems (GIL100 Touch Screen and LMA-14 adapter required for Trolmaster systems) |
| Hanger | Built-in hanging holes |
| Warranty | 5 year |
| Grams per watt | 2.17 g/w (Expected) |
| Yield | 694.4  Grams |
| Voltage | AC 120V~277V |
| Amp draw | 110V – 2.9A / 240V – 1.33A |
| BTU | 1091.2 |
| Dimensions | W = 22.626″ L = 47.391″ H = 3.721″ |