Description
The Aegis Series by Grow-it-LED is a commercial LED grow light. This system has been designed to replace 1000w HPS or 1000w Metal Halide lamps depending on the spectrum and wattage that is chosen. The design of this fixture utilizes active cooling to ensure LED longevity and fixture output. 100,000h should be expected from this fixture. The LEDs are a blend of 30k and 50k Samsung 301H diodes and 660 Hyper Red Samsung 351H diodes. We have also chosen Inventronics to be our LED driver supplier due to their incredible efficiency and product longevity. The S1/S2 fixtures come standard with dimming knob and power switch. The S3 system has spectral tuning capabilities and comes standard with two dimmer knobs to control the spectrum.
The outputs range from 450w to 600w and can be dimmed down to 1% of their maximum output. All fixtures come with a wireless control option, the Casambi system can control each fixture individually. This allows for DLI control, sunrise/sunset functions, and spectrum tuning for the S3 models. Casambi can be used on Apple or Android devices.
Wireless Casambi control is available for this product along with the Cool Cob Series and Excalibur Series.
Product Features
Commercial LED Grow Light

Premium Samsung LEDs

Premium Inventronics LED drivers

160,000h rated cooling fans

High efficacy white light spectrum

Replaceable, interchangeable, repairable construction

Polycarbonate diffuser lens for safety and plant penetration

Active cooling for extended service life

Stand-alone dimmer knob or Casambi wireless controls

Robust aluminum construction

Properly heatsinked LEDs (fixture runs cool to the touch)

Universal power supply (110v, 120v, 240v, 277v)

5-year warranty

Incredible Watt per $ and PPF per $
Spectrum Options
Grow-it-LED offers three spectrum options for the Aegis series, each spectrum is detailed below.
S1 Vegetative Spectrum
This spectrum is a perfect static spectrum for a wide range of leafy greens, supplemental greenhouse lighting, and early to mid-stage cannabis crops with high blue light vs red light levels. At 1.1/1 Red to Blue, this spectrum is ideal for keeping plants shorter with tighter internodal spacing, this will benefit the plant later on in its lifespan.
S2 Full Cycle Flower Spectrum
Perfect static spectrum for flowering plants (tomatoes, citrus, ornamental flowers, cannabis, etc.) Ideal for supplemental lighting in greenhouses or standalone indoor commercial grows and home growers. The S2 Spectrum contains high red light vs blue light levels, at 2.3:1 Red to Blue, this will produce very high-quality flowers with increased dry weight, improving our customer's ROI when plants are sold by their quality and final dry weight. This spectrum has been specially engineered to mimic the red to blue ratio of HPS to ensure that each plant doesn't go into shock when switched from HPS to Grow-It-LED's S2 fixtures.
S3 Veg to Flower Spectrum
With our start to finish veg to flower control offering, 1:1 R/B Veg spectrum to 2.3:1 R/B Flower Spectrum, it is a fantastic choice for specialty grow facilities that require spectrum tuning. Similar to the S2 spectrum the S3 spectrum gives our customers the flexibility to adjust their spectrum as needed throughout the growing cycle. Focusing on more blue light or red light. Also, during certain times of day, this can change the final product to be more favorable over static spectrum grown products. At full output, this fixture is 3500 kelvin with a range from 3000 kelvin to 5100 kelvin.
PPFD Measurements
S1 Vegetative Spectrum
S2 Full Cycle Flower Spectrum
S3 Veg to Flower Spectrum
Application Examples
Our sponsored grower, Rule-30-Labs, has been getting some incredible results under the Aegis Series! After the first time around they are utilizing CO2 to increase their yields. The Aegis produces enough photons to utilize CO2 in your grow. Even without CO2, their yields were incredibly good. Compared to HPS, which is on average 1 gram per watt even with high yielding stains, Rule-30 was averaging closer to 2 grams per watt! Talk about efficiency! What makes a difference when comparing older technologies to the Aegis Series is that the spectrum is more tailored for plant absorption. Common misconceptions about HPS is that it 'penetrates better' and many think that is due to the intensity of light. Studies are coming out that SPECTRUM plays more of a role in light penetration than actual light intensity.
Green and Yellow light have a unique property that allows them to penetrate through the plant canopy and be absorbed by leaves and flowers farther down on the plant's structure. The majority of light emitted by HPS is, in fact, green and yellow light! What we have done with the Aegis is offer a light that not only penetrates just as well but offers a more balanced white light spectrum. What this offers is increased flower quality and dried flower weight. The overall light output produces more blue AND red light compared to HPS, exactly what the plant needs for producing ideal flowers. Follow @rule_30_labs on Instagram for more awesome pictures and excellent indoor gardening tips!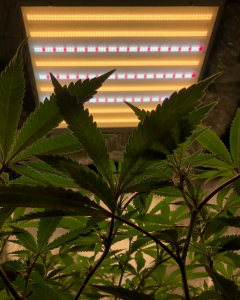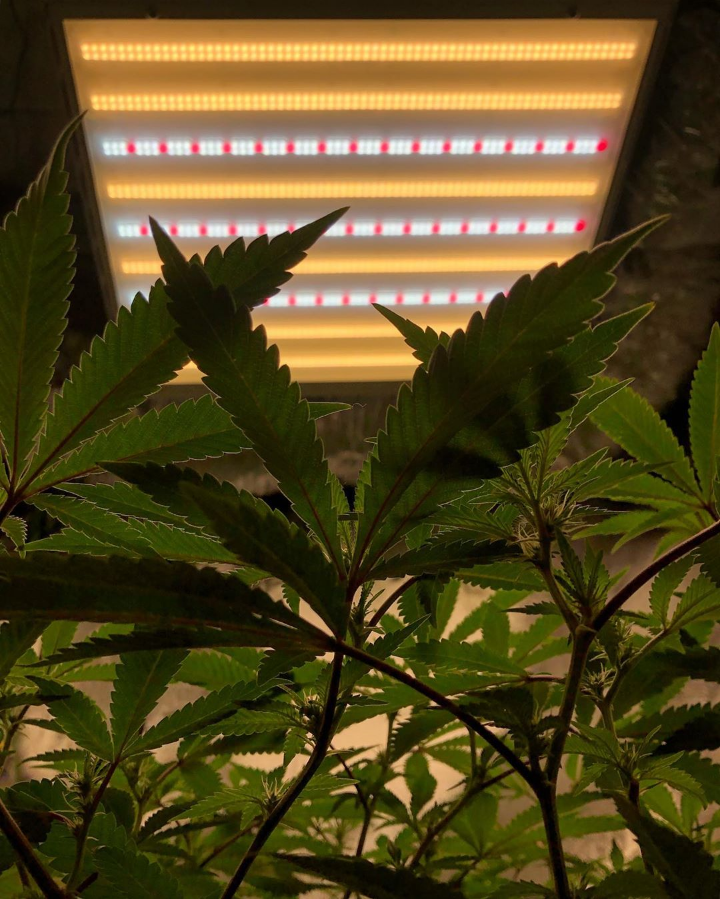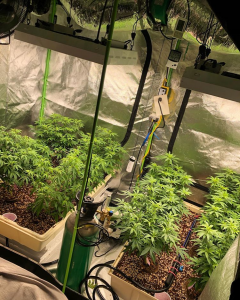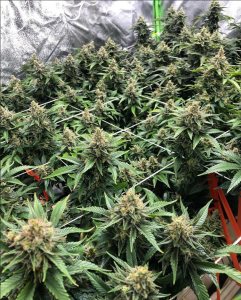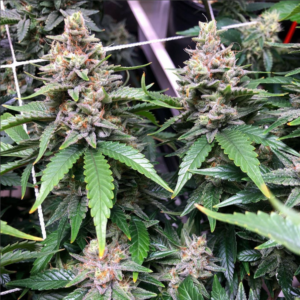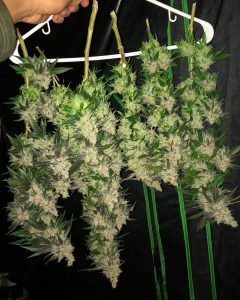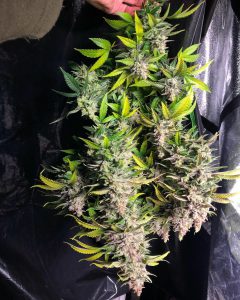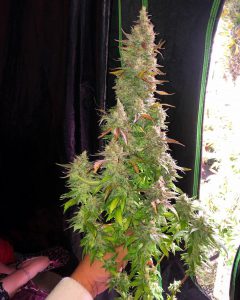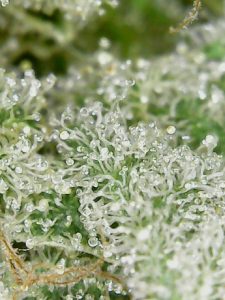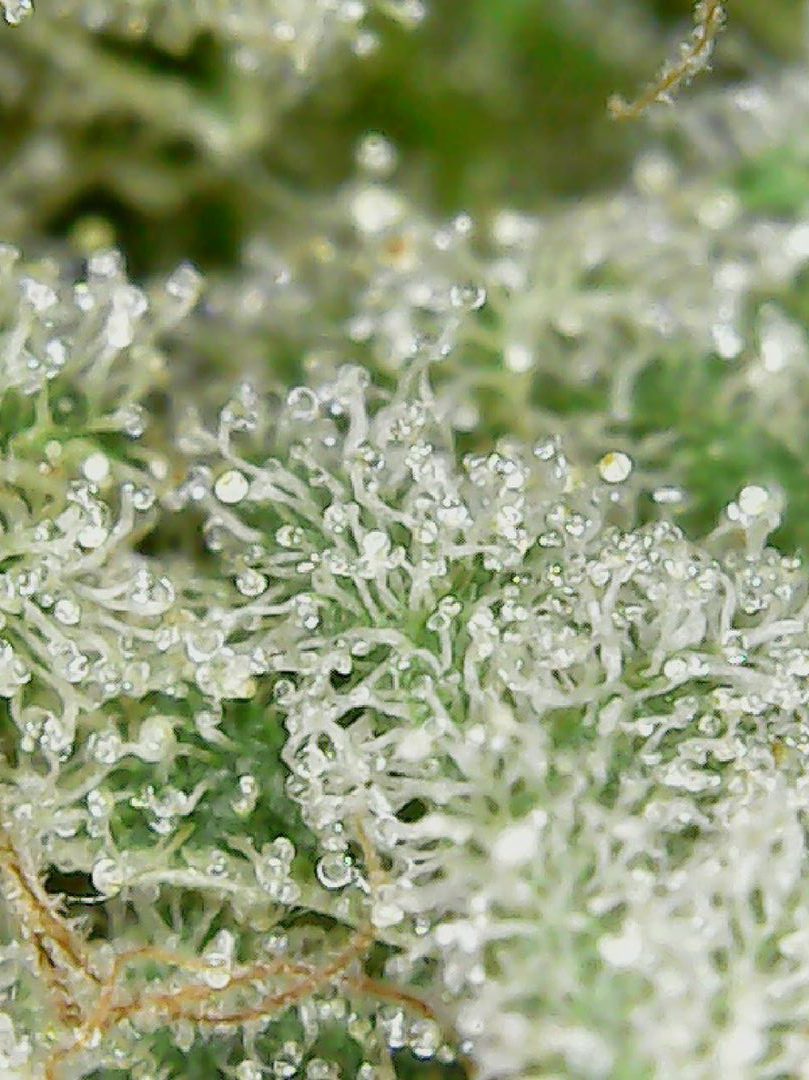 Electrical Specifications
Power Draw: 450 to 600 watts
HPS/MH Replacement Wattage: 800 to 1000w
Spectrum: S1= 5100K S2=3500k S3=3500k to 5100k
PAR efficacy: S1= 2.5 to 2.8+ S2=2.4 to 2.7+ S3= 2.4 to 2.7+
PPF:
S1 450w=1183 umol/s 600w=1520 umol/s
S2 450w=1133 umol/s 600w=1460 umol/s
S3 450w=1133 umol/s 600w=1460 umol/s
Coverage area 450w: 4′ x 4′ flower and 5.5′ to 5.5′ veg
Coverage area 600w: 4.5′ x 4.5′ flower and 6′ to 6′ veg
Lifetime: 100,000+ Hours (11.4 years of continuous use)
Driver:
S1: 450w = 480w Inventronics EUD (Dimmable) 600w = 600w Inventronics EUD (Dimmable)
S2: 450w = 480w Inventronics EUD (Dimmable) 600w = 600w Inventronics EUD (Dimmable)
S3: 450w = 150w and 320w Inventronics EUD (Dimmable) 600w = 240w and 480w Inventronics EUD (Dimmable)
Cables: 6-foot industrial grade SEEO Cord (Standard)
Plug: 5-15P Standard Other NEMA Plugs are available
Dimming: Yes, down to 1% of max output with dimmer knob or dim to off with Casambi wireless system
Hanger: Built-in industrial grade eye-bolt
Warranty: 5 year
Grams per watt: 2 g/w+ (environment dependent)
Yield: From 650-1400 grams (wattage and environment dependent)
Voltage: AC 120V~277V
Amp draw:
450w 110V – 4.09A / 240V – 1.88A
600w 110V – 5.45A / 240V – 2.5A
BTU:
450w 1535
600w 2047
Shipping: Standard shipping rates apply. World wide shipping is available!